10 Nov

A decade participating in Kyriba Live
All CMS, Kyriba Partner and Kyriba Live 2022 Sponsor
During the first week of October, Kyriba held its annual event which brings together more than a thousand finance professionals for three days to learn about the platform's latest developments, market trends and to recognise those projects that have chosen Kyriba's system and which stand out for their excellence.
We have partnered this event for ten years now and on this year's occasion we have taken the opportunity to present our new brand, All CMS, to the financial community. A brand that seeks to link the user with the publisher, a brand to integrate and build a community in which both the user, the publisher and the integrator provide value and knowledge for cash management.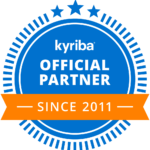 In several of the talks, Kyriba addressed the concerns of CFOs, providing solutions and options for overcoming uncertainty and improving cash control. In their conferences or round tables, several speakers spoke about their experiences of liquidity management, cash flow optimisation, risk management and trends and innovations in corporate payments.
Do you want to automate your cash management?